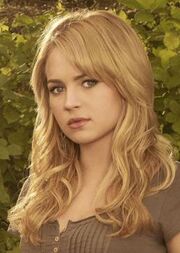 "What good is magic, if we can't protect the people we love?" -Cassie Blake
Cassandra "Cassie" Blake is the main female character of the original series,
The Secret Circle.
She is the daughter of
Amelia Blake
and
John Blackwell
, best friend and paternal half-sister of
Diana Meade
, ex-girlfriend and other best friend of
Adam Contant
.